There is a great deal on decorating walls with other objects rather than framed paintings or lightning, and shelves are often a great ally on that task. On the other hand, the standard application, against the walls, is a process that can rob some of their personality in case the model is not as fancy and well sculptured, details that are often more akin to old fashioned, rustic decoration, as modernism is more occupied with seamless and impacting shapes rather than sculpturing.
Adding a hanging system for shelves though makes a whole difference and can enhance the modernist visuals of your room, as well as work like an alternative rack depending on the disposition and assembling of the shelves. We will check here how you can create a set of these hanging shelves to decorate your walls, as well as how easy it is to assemble and acquire the resources for crafting one of them.
Walls: Hanging Shelves
If you checked our article on geometric chandeliers for your room, playing with geometry to model shapes for objects is something that can enhance a lot the aspect of modern decor sets with very minimalist but impacting results. The hanging shelves are not much different from the chandelier. With ropes, you can give a whole new dimension to your shelves working with straight lines, turning them into geometric shapes that are quite bold against clean white walls, and you don't have to work with a lot of resources here to obtain amazing results.
There are many ways you can play with the ropes and assemble your shelves, we are going to teach you here the general formula to create them and how simple is to achieve whatever you have in mind for hanging shelves
Materials:
Rectangular board (regardless the material, something you can drill holes upon)
Set of ropes of your preference
Screw hooks or wall rings
Sandpaper(for wood boards)
Finish coat of your preference (optional) and brush for application
Instructions:
The shelves here can be any quite simple board surface. You can either make use of wood plank boards, a plastic board or even metallic plates, as long the latter have holes as you will not be able to drill them. The plastic as well here must be resilient enough to be drilled and do not crack, so you can't use thin, soft plastic surfaces.
The set of ropes must be a of a good thickness as well, not too bold, neither too thin like a twine. You also have to wonder what you will want to display over the shelves so the ropes have to be strong enough to compensate the weight of the board and the objects above. That's why going with a thick set of ropes is always a good option. Also, the boldness of thick ropes is important for the visuals. We recommend black ones as you will see they are as neutral, modern and elegant as white for modern decor sets. They won't compete with other set of colors and have a great outlook against white walls.
We will set these ropes through the board, and we need at least two sets of ropes for each board, one for each size. However, you can as well play here with shapes, as the hanging ropes will give the design de facto for the shelves. The ropes will be attached on the other end to the ceiling or walls, with the help of screw hooks or wall rings. Here it is also up to your taste what fits better your decor set. There are plenty of options for both hanging items, so you can choose as you please. The only mandatory feature of these items is that they must be heavy duty to ensure the shelves will be quite safely attached.
With the drill, you will open four holes in the four corners of the border. If you please to, you can make them quite asymmetric using a ruler or measure tape to ensure they will be carved on even distances.
If you are using wood boards, which we recommend, you have to sand them for a better outlook. Surely is as well optional if you want to keep them looking raw and brute or want to finish the polish with a finish coating layer application after sanding. Do the desired finish only after drilling the holes.
Now we will attach the hanging hooks – or wall rings. Here, you can either choose to implement the hook/ring on the wall or on the ceiling, it is up to you depending on what kind of look you think is the best for your decor set and your taste. For this step, you have to have in mind two features of the shelf:
How long you want your shelves to hang : the length also offers quite different results and is as well responsible for the final shape of the shelf.
Longer shelves : they are more impacting and showy, but they can dominate the walls in case you are planning to assemble many of them. They will provide rectangular shelves, isosceles triangles or long trapeze shelves.
Short shelves : will be great for minimalist results and they can shape square, equilateral triangles (if the ropes are the same size of the board length) and standard trapezes.
How many hook-and-rope sets you want : hanging the shelf with multiple different ends is what will shape it.
One hook/ring : you will have a triangle.
Two hooks/rings : you will have squares, trapezes or rectangles.
Three hooks/rings : create a pentagon shape, passing one single rope through the three hooks.
Make use of the measure tape to simulate on the walls how the length of the rope will perform so you can choose the starting point for hanging them, exactly where you will drill a hole to attach the hook/ring. Note that depending on how you tie the ropes you can as well shape designs, for example, creating right triangles as well as scalene or obtuse triangles.
Once the board is properly polished and the hooks or wall rings are attached, is time to entangle the ropes. But this part is tricky because you will "lock" the lower end of the ropes on the board with a knot, and this knot "steals" length from the rope so, to ensure you make the ropes evenly, the ropes must be longer than the actual height you are planning for the hanging shelves and you will dispose of the remnant edges later. You can check this guide on rope knots to decide witch knot you will want. This is also interesting and fun for aesthetic reasons as some knots may be quite bolder and more stylish for your hanging shelves than others.
Once you have selected your knot, tie the knot to one of the edges of the rope, run the rope length you desire until you reach the second hole and them make the last knot. Cut the remnant edges of the rope after the knots to finish the shelf. Now, you will repeat the process in the second side of the board and when you are ready, you are ready! Hang the shelf on the wall and you are set.
Note that depending on the assembling and the number of shelves, you can create a stylish alternative rack.
Here, instead of ropes, we have steel wires, which provide an even more modern style
Triangle shelves give the room a quite neo-mystic outlook and you can enjoy to display this kind of hermetic objects, like pyramids, crystals and modernist statues, sculptures.
A trapeze shelf is all about where to place the hooks. In this case, a very small shelf just require some nails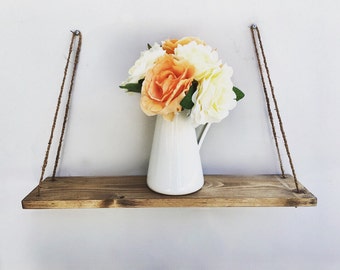 Make it simple too with minimalist objects
And what about adding some lightning?
The possibilities are endless, is all about your creativity!
Latest posts by Abby Larson
(see all)