Smoothies have become increasingly popular as a quick, delicious, and healthy way to consume a variety of fruits, vegetables, and even proteins. Whether enjoyed as a refreshing breakfast option or a post-workout pick-me-up, smoothies can pack a nutritional punch and require the right equipment to blend them seamlessly. The key to making the best smoothies lies in having a powerful and reliable blender that can handle various ingredients and provide a smooth, consistent texture.
Blenders come in a wide range of styles and functionalities, from sleek and compact, to powerful and versatile. When searching for the best blender for smoothies, it's important to consider factors such as motor power, blade design, and ease of use. A high-performance blender should have enough power to crush ice and blend fibrous greens effortlessly while exhibiting durability and convenience in cleaning and maintenance.
Furthermore, the size and capacity of the blender should be taken into consideration, especially when blending for multiple servings or for meal prep. Additional features, such as preset blending options and attachment possibilities, can also add value and versatility to your investment. Ultimately, the best blender for smoothies will be able to take on a variety of blending tasks and stand up to frequent use without losing its efficiency or effectiveness.
In this guide, we've invested time and effort into researching and testing an array of blenders to help you find the perfect option for your smoothie-making needs. Our selections prioritize quality, performance, and user satisfaction to ensure that you get the most out of your blender, taking your smoothie game to the next level.
Best Blenders for Smoothies
Discover our curated list of the best blenders for smoothies, specially selected to make your smoothie-making experience a breeze.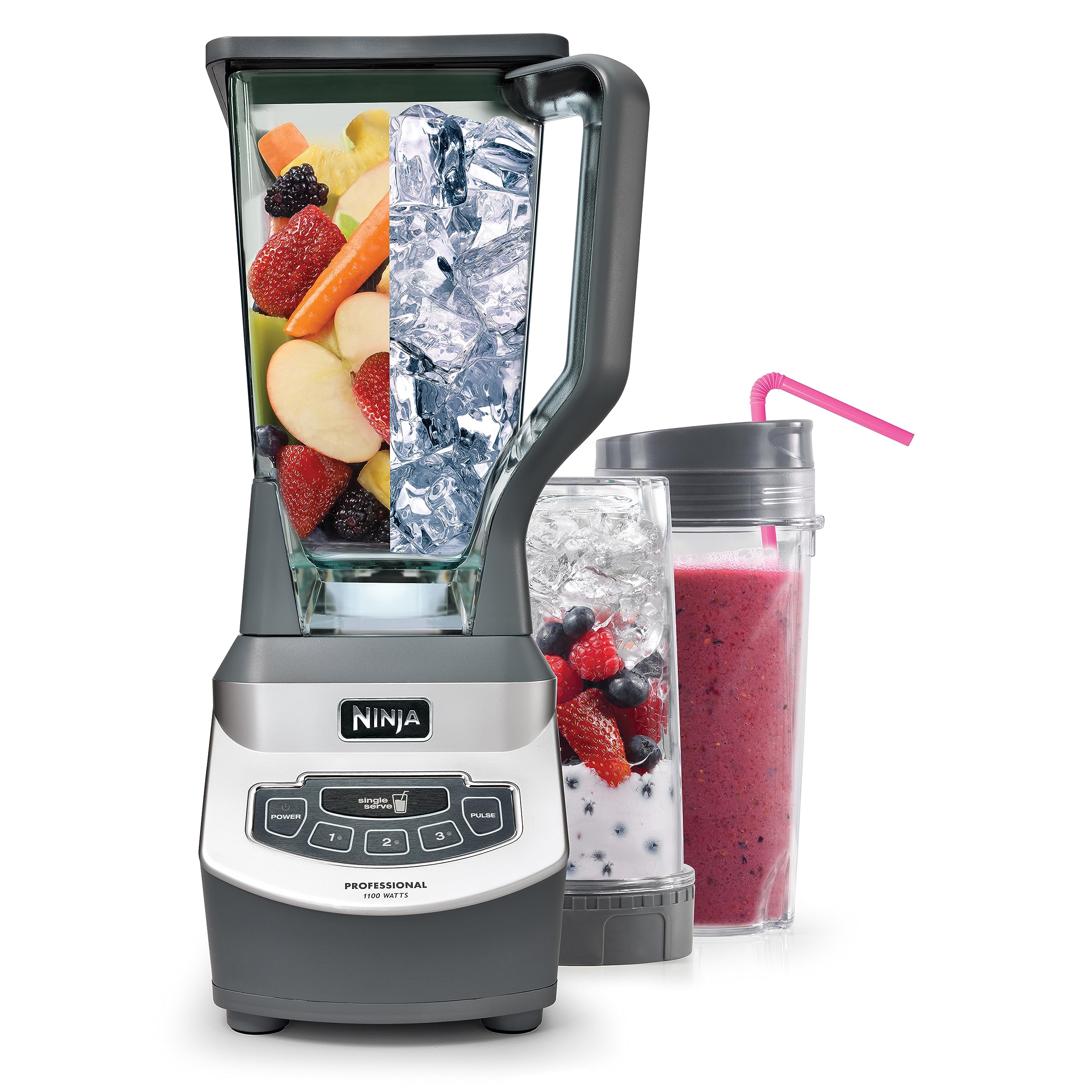 The Ninja BL660 is a reliable choice for creating delicious smoothies, frozen drinks, and processing various foods with its powerful motor and versatile functions.
Pros
1100-watt motor for efficient blending and crushing
Versatile functions with 3 manual speeds and single-serve option
Large 72-oz. pitcher and 16-oz. to-go cups included
Cons
Pitcher is prone to cracking if placed in the dishwasher
Additional lid for smoothie cups not included
May require some getting used to for safety features
The Ninja BL660 Professional Compact Smoothie & Food Processing Blender boasts a powerful 1100-watt motor that can easily crush ice and blend the toughest ingredients, making it an ideal choice for smoothies, frozen drinks, sauces, and more. Its stainless steel design ensures long-lasting durability, and the XL 72-oz. Total Crushing Pitcher can cater to the needs of the whole family or guests with a maximum liquid capacity of 64 oz.
One significant advantage of the Ninja BL660 is its versatility, offering professional performance with three manual speeds, a pulse function, and a single-serve option for to-go cups. This feature makes it especially convenient for those who want to enjoy their creations on the go, as it comes with two 16-oz. single-serve cups and spout lids for easy sipping.
The blender's food processing capabilities are impressive as well. It effortlessly minces, chops, grinds, and blends a variety of ingredients, making meal preparations a breeze. The accompanying 28-recipe inspiration guide helps to kick-start your culinary journey with smoothies, frozen drinks, sauces, and more.
However, there are a few minor drawbacks to this blender. Customers have reported that the pitcher is prone to cracking if placed in the dishwasher, so it's best to wash it by hand. Additionally, a second lid for the smoothie cups is not included, which may be inconvenient for some users. Lastly, it might take a little time to get used to the safety features on the blender.
In conclusion, the Ninja BL660 Professional Compact Smoothie & Food Processing Blender is an excellent option for those looking to invest in a powerful and versatile appliance. Its high-performance blending, food processing, and single-serve options make it a valuable addition to any kitchen. Just be mindful of the few minor drawbacks mentioned above to ensure a seamless blending experience.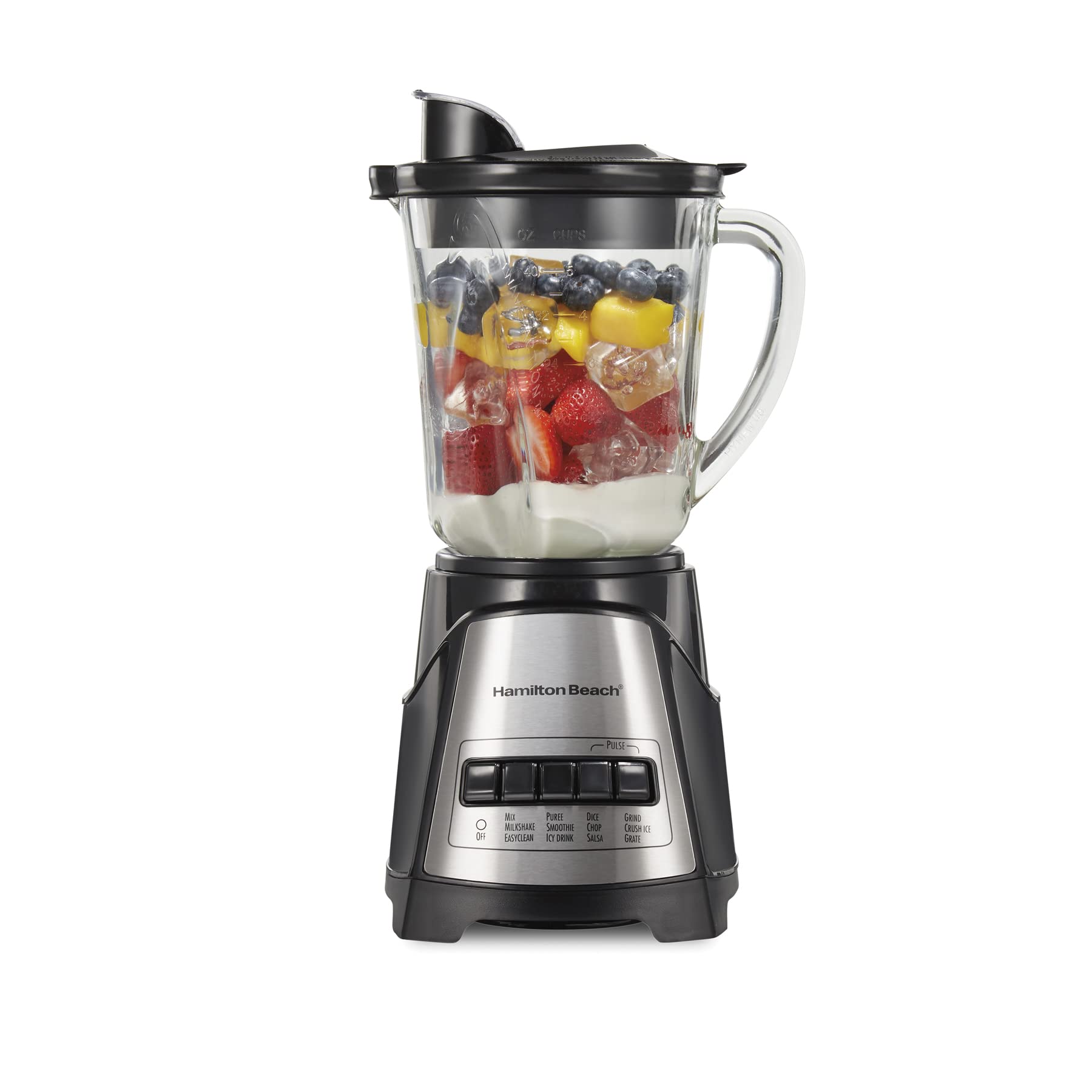 The Hamilton Beach Power Elite Blender is an affordable, versatile choice for smoothie lovers seeking powerful performance with a budget-friendly price tag.
Pros
700 watts of peak blending power
Patented Wave Action System for ultra-smooth results
12 blending functions for maximum versatility
Cons
Lid may be difficult to remove
Noise level may be higher
Not as powerful as high-end blenders
The Hamilton Beach Power Elite Wave Action Blender boasts a 700-watt motor, which provides more than enough power for blending smoothies, protein shakes, and other frozen drinks. The unique patented Wave Action System ensures ingredients are continuously forced down into the stainless steel Ice Sabre blades, effectively crushing even the hardest ingredients with ease.
One of the primary features that sets this blender apart is its 12 blending functions, controlled by five simple buttons on an easy-to-read control panel. This multi-function blender can effortlessly handle a variety of blending tasks, including ice crushing, pureeing, dicing, and chopping. The 40-ounce glass jar makes it simple to blend multiple servings for yourself or guests, and the jar, lid, and removable blades are all dishwasher safe for easy cleanup.
Despite its impressive features and low price point, there are some cons to consider. The lid may be challenging to remove after blending, and the noise level could be higher than desired. While it's not as powerful as some high-end blenders on the market, the Hamilton Beach Power Elite Wave Action Blender is still an excellent choice for those seeking a versatile, budget-friendly option for their blending needs.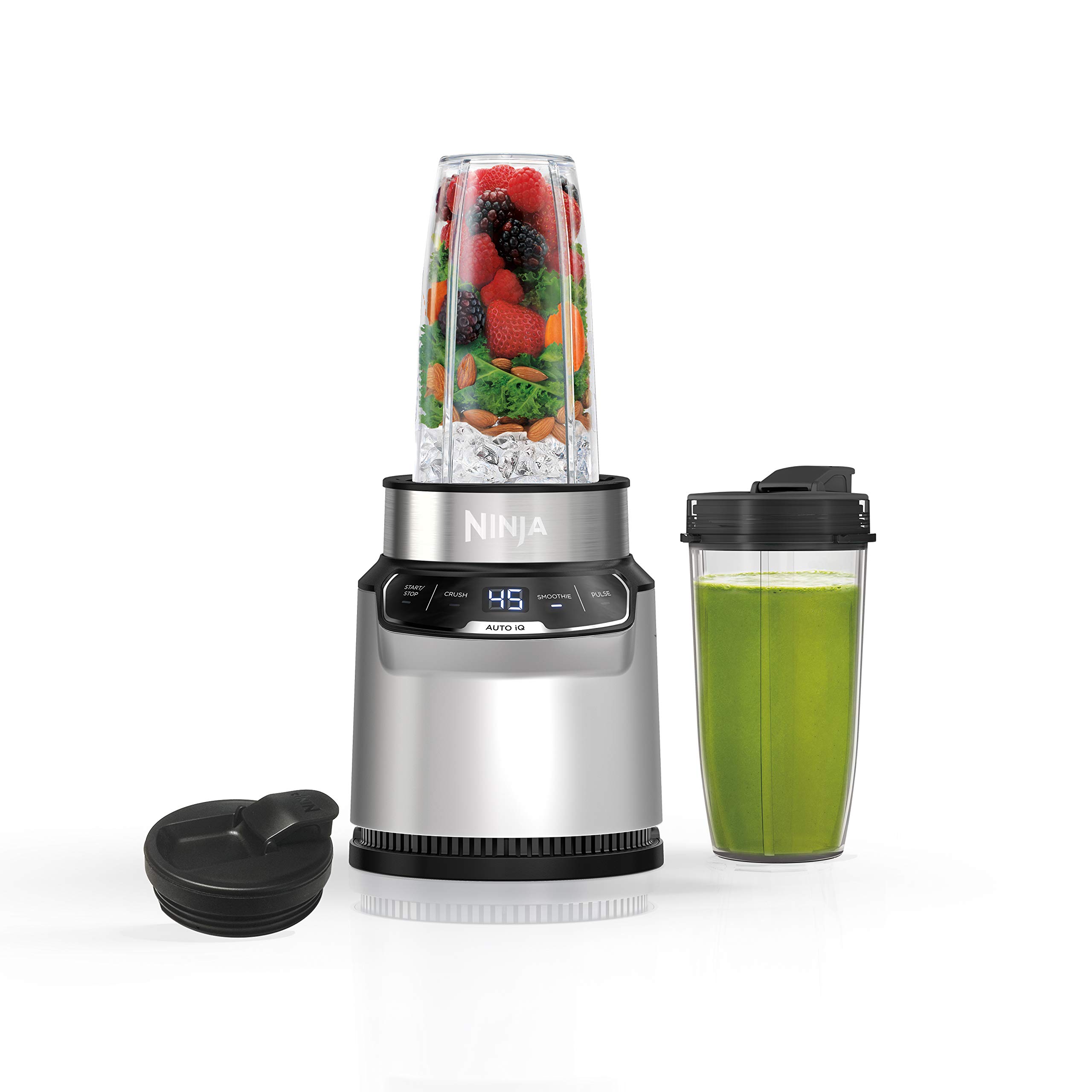 The Ninja BN401 is a powerful, compact blender perfect for those seeking quick, nutritious smoothies and frozen drinks.
Pros
Ultimate 1100-peak-watt power for tough ingredients
Effective nutrient extraction from whole fruits and vegetables
Convenient single-serve blending with two 24-oz. to-go cups
Cons
Can be quite noisy during use
Not suitable for overloading
Limited to two preset programs
The Ninja BN401 Nutri Pro Compact Personal Blender is a versatile kitchen appliance, specifically designed to cater to those who desire healthy smoothies and frozen beverages. With its 1100-peak-watt motor, this blender easily pulverizes ice and other tough ingredients to create creamy drinks and smoothies within seconds. Additionally, the Nutri Pro provides excellent nutrient extraction by blending whole fruits and vegetables, allowing users to consume vital nutrients they would typically discard.
One key feature of the Ninja BN401 is its single-serve blending capability where users can blend directly in the provided 24-oz cups. These cups come with spout lids, making it convenient for enjoying drinks on the go. The blender is also compact in size, so it can easily fit on any countertop without occupying too much space. However, this powerful blender can be quite noisy during operation, although it is a small trade-off for the convenience it offers.
The blender comes with two Auto-iQ preset programs, which simplify the blending process for smoothies and crushed ice. These pre-timed programs eliminate the guesswork involved in achieving perfect results. On the downside, there are only two presets available, so users might need to manually control the blender for other recipes. While using the blender, avoid overloading it to ensure optimum performance and a longer lifespan for the appliance.
In conclusion, the Ninja BN401 Nutri Pro Compact Personal Blender is a reliable choice for those who seek a powerful blender that makes nutritious smoothies and frozen drinks with ease. Although it can be a bit noisy and limited in terms of preset programs, its compact design, nutrient extraction feature, and on-the-go convenience make it a valuable addition to any kitchen.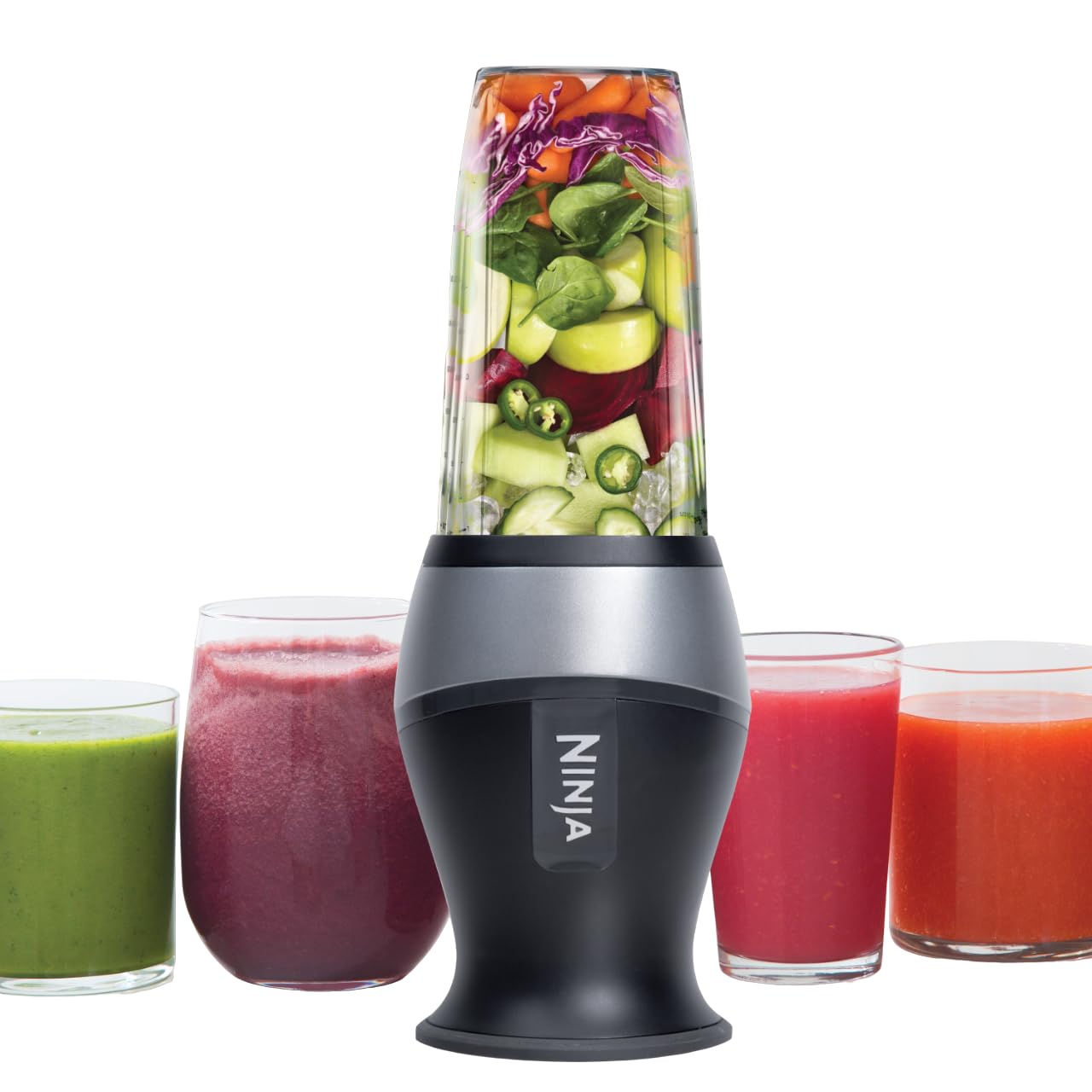 This Ninja Fit Compact Personal Blender is a great choice for those who seek quick and efficient smoothie-making.
Pros
Powerful 700-watt motor for efficient blending
Nutrient extraction feature for unlocking hidden nutrients in fruits and veggies
Compact size for easy countertop placement and storage
Cons
Limited capacity with 16-ounce cups
Lacks multiple speed options
May not be suitable for more complex blending tasks
The Ninja Fit Compact Personal Blender quickly became a favorite in everyday routine, thanks to its efficient blending capabilities. With its 700-watt motor, this compact powerhouse easily tackles ingredients, making it excellent for smoothies and other blended drinks. The pulse technology allows for fast and precise blending, ensuring a smooth consistency without missing any nutrients from fruits and vegetables.
Moreover, this personal blender excels in its compact design, fitting effortlessly on any countertop without compromising space. The easy-to-use controls make it simple to create various creations within minutes. The inclusion of two 16-ounce cups with spout lids makes it convenient for those who are constantly on-the-go and want to enjoy their freshly made smoothies without hassle.
However, one should be aware of its 16-ounce cup capacity, as it may not be suitable for larger blending tasks. Additionally, this blender has only one speed setting, which may not cater to those who desire multiple blending options. While it is efficient in making smoothies and frozen drinks, it may not be fitting for more complex blending tasks.
All in all, the Ninja Fit Compact Personal Blender is a fantastic choice for its easy-to-use design, powerful blending capabilities, and portability. However, those who require larger size or multiple blending options may need to explore other alternatives.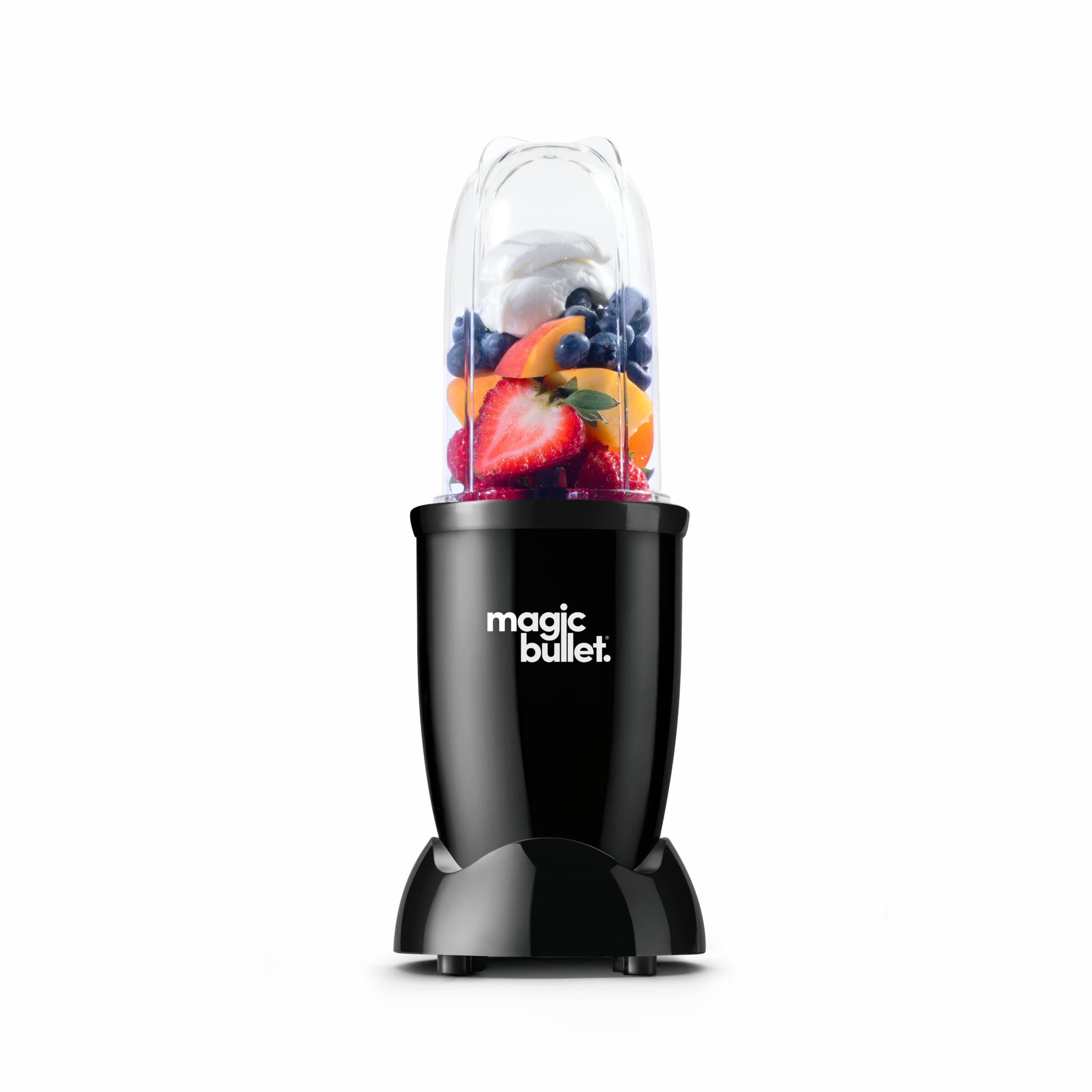 The Magic Bullet Blender is a convenient and versatile choice for making smoothies and more with its compact design and powerful performance.
Pros
Compact and easy to store
Highly versatile for various recipes
Reputed and top-selling product
Cons
May struggle with tougher ingredients
Cleaning the blades can be difficult
Plastic gasket ring is not easy to remove
The Magic Bullet Blender offers a compact design that makes it perfect for those with limited counter space or for those who need a quick and efficient tool for their daily smoothie needs. With a 250W motor, this blender is capable of handling most fruits and vegetables, helping users create smoothies, dips, and sauces with ease.
The included recipe book and multiple blending cups provide a well-rounded experience for anyone looking to explore new recipes or keep their old tried-and-tested ones at hand. The party mug and short cup also offer added convenience for on-the-go users who want to enjoy their beverages without the hassle of transferring them to another container.
However, the Magic Bullet Blender might struggle with tougher ingredients such as ice and frozen produce. Care should be taken when blending these items, and users should be prepared to mix ingredients occasionally to prevent the blades from getting stuck. Additionally, cleaning the blades could be a bit challenging due to the design of the blender.
Overall, the Magic Bullet Blender is a reliable and efficient choice for those who value convenience and versatility in their kitchen appliances. With its compact design and ease of use, this blender is sure to become a daily staple for users looking to make quick and delicious smoothies, sauces, and more.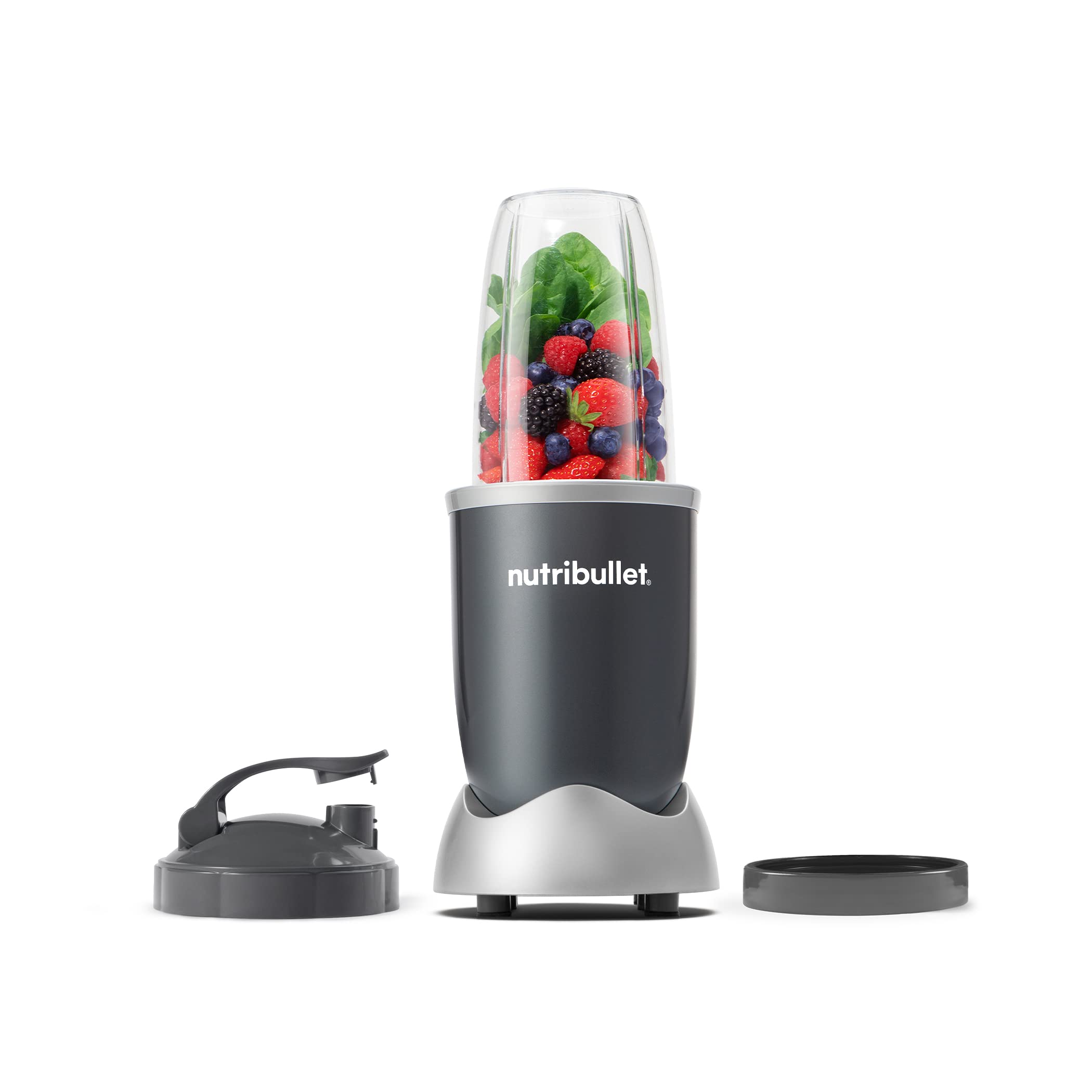 The NutriBullet Personal Blender is a versatile and powerful appliance for smoothie enthusiasts seeking a healthy lifestyle.
Pros
Powerful 600-watt motor effortlessly blends fruits and vegetables
User-friendly design with simple push, twist, and blend operation
Easy to clean with dishwasher-safe parts
Cons
Potential for leakage if blade assembly not tightened properly
Can be challenging to unscrew the blade assembly if overtightened
Plastic blade housing may wear down over time
The NutriBullet Personal Blender stands out for its impressive power, effectively turning a variety of ingredients like fruits, vegetables, and leafy greens into smooth, sippable nutrition. Its intuitive design allows users to easily operate the device, making it a reliable go-to appliance for everyday use.
One potential issue with the NutriBullet Personal Blender is the possibility of leakage during blending if the blade assembly is not tightened securely. Additionally, if it is overtightened, users may struggle to unscrew the blade assembly for cleaning. However, when used correctly, this blender delivers excellent performance and is easy to clean, with dishwasher-safe cups and blades.
This personal blender is an ideal choice for those looking to embrace a healthier lifestyle, incorporating nutritious smoothies into their daily routine. The NutriBullet Personal Blender delivers efficiency and convenience, making it a valuable addition to any kitchen.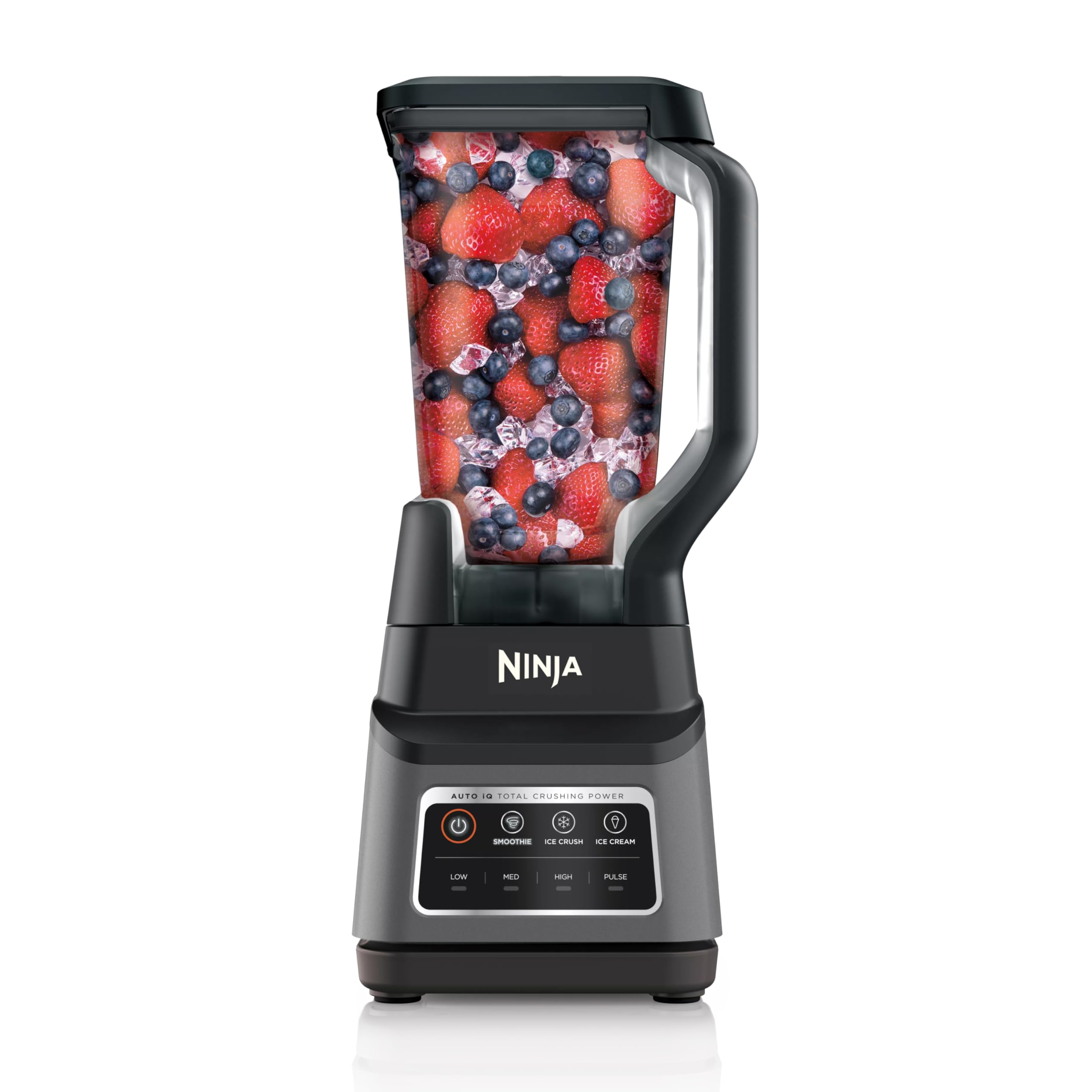 The Ninja BN701 Professional Plus Blender is an excellent choice for those seeking powerful blending performance and versatile functions for creating perfect smoothies, frozen drinks, and ice cream.
Pros
More powerful motor than the original model
Total Crushing Blades for perfect ice crushing
Versatile with 3 preset Auto-iQ programs
Cons
Can be a bit noisy
Cord length may be too short for some
Requires immediate cleaning to prevent dried-on food
The Ninja BN701 Professional Plus Blender stands out for its modern design and powerful motor, ensuring top performance when it comes to creating smoothies, frozen drinks, and other treats. Its 1400-peak-watt motor is noticeably stronger than its predecessor, making ice crushing and blending a breeze.
One of the key features of this blender is its three preset Auto-iQ programs that allow users to create smoothies, frozen drinks, and ice cream with ease. The intelligent programs automatically adjust blending, pulsing, and pausing patterns, removing any guesswork and ensuring consistently great results. Additionally, the 72-oz Total Crushing Pitcher has a 64-oz max liquid capacity, making it great for preparing large batches for families or gatherings.
Despite its powerful capabilities, users should be aware that the Ninja BN701 can be quite noisy when operating. The cord length may also be an issue for some, depending on the available counter space and outlet placement. Lastly, it is crucial to clean the blender immediately after use, as dried-on food can become difficult to clean.
In conclusion, the Ninja BN701 Professional Plus Blender is a reliable and powerful option for creating perfect smoothies and other treats. Its improved motor, versatile Auto-iQ programs, and large capacity make it a great investment for those who frequently blend. Be prepared for the noise and remember to clean promptly after use for the best experience.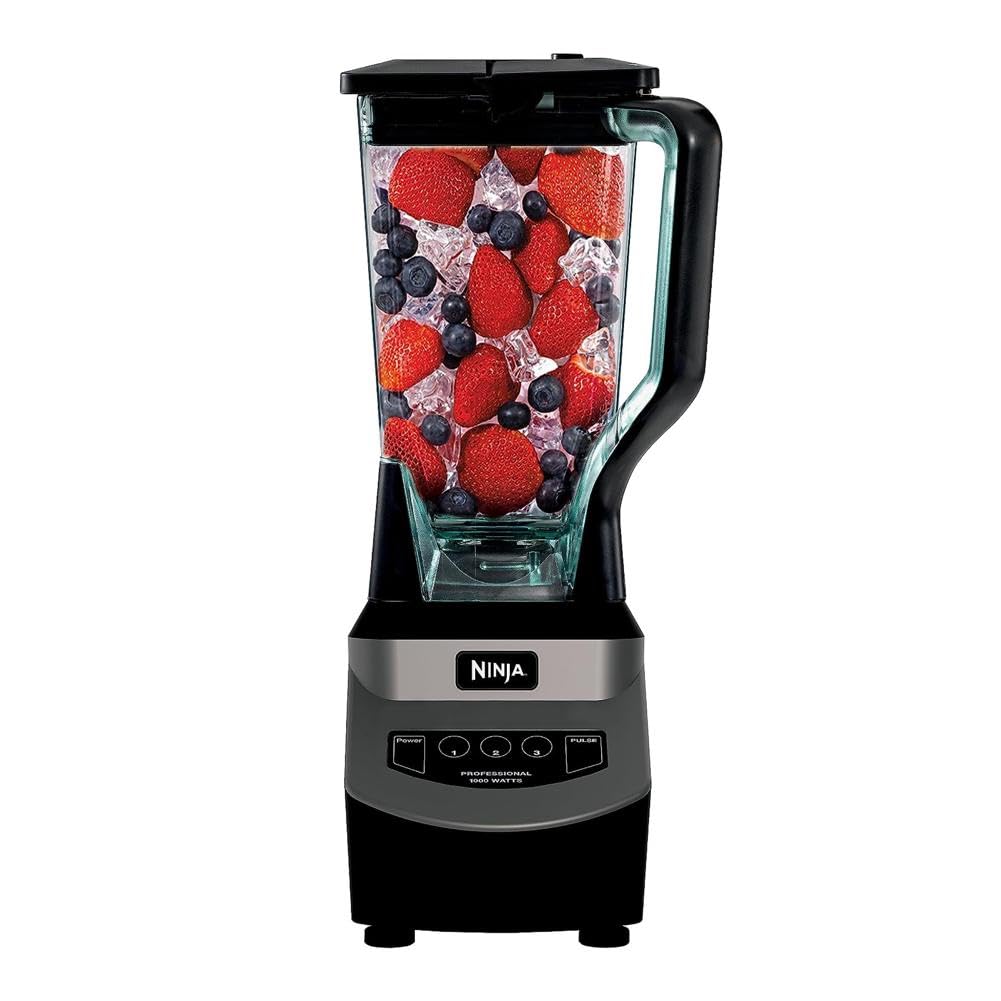 The Ninja NJ601AMZ Professional Blender is an excellent choice for smoothie enthusiasts, offering powerful blending capabilities, versatility, and ease of cleaning.
Pros
Powerful 1000-watt motor for quick and efficient blending
72 oz pitcher with 64 oz max liquid capacity is perfect for larger batches
Total Crushing Technology ensures smooth and consistent results
Cons
Heavier than some other blenders
Might be too powerful for some delicate ingredients
Glass container not included, contrary to specifications
This Ninja blender, with its potent 1000-watt motor, effortlessly crushes ice, fruits, and vegetables in seconds. Just recently, making a green smoothie with spinach, banana, and frozen strawberries was a breeze, yielding a silky-smooth texture without any chunks or unprocessed bits. The three-speed options and pulse function provide control and precision to achieve the desired consistency for various recipes.
The large 72 oz pitcher is perfect for creating shakes, smoothies, and frozen drinks for the entire family in one go. Making several servings at once not only saves time but also simplifies the cleaning process. The BPA-free pitcher and Total Crushing Blades are dishwasher-safe, further enhancing the ease of use and convenience of this blender.
Although the Ninja NJ601AMZ is an excellent choice for smoothies, its power can be a double-edged sword. Users should be cautious when blending delicate ingredients, as the blender might over-process them in seconds. Additionally, the product description mentions a removable glass container, but this model does not include one, which may be misleading for some customers.
All in all, the Ninja NJ601AMZ Professional Blender is a reliable and powerful option for anyone seeking to make delicious smoothies, shakes, and frozen drinks with minimal effort. Its versatility and easy-to-clean design make it a valuable addition to any kitchen.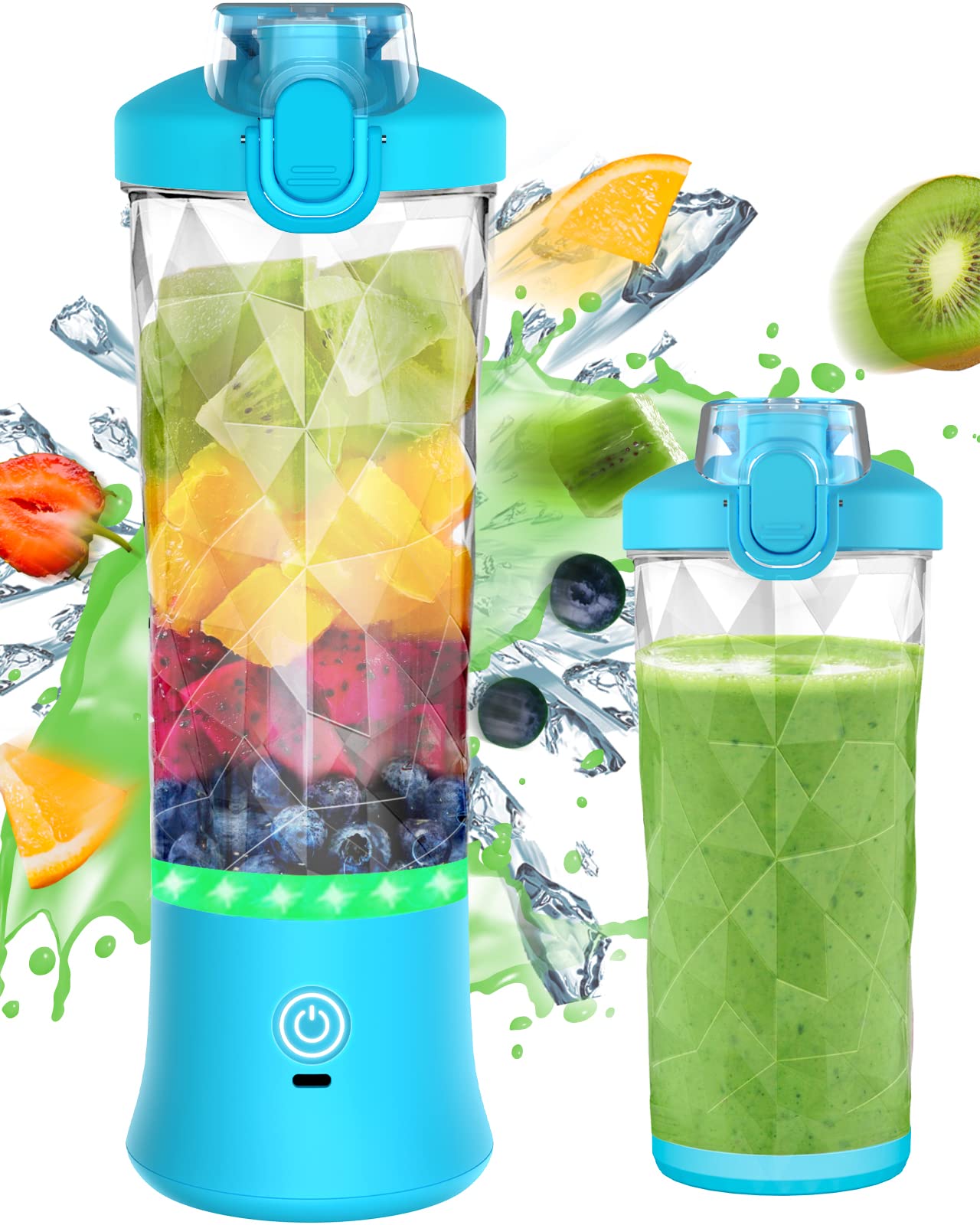 The Handupfree Portable Blender is a convenient, powerful, and user-friendly option for those seeking a compact smoothie making solution.
Pros
Powerful 240W motor with 18000 rpm
4000mAh USB rechargeable battery
BPA-free, ergonomic design
Cons
Needs initial 3-5 hour charging
Not suitable for large fruit pieces
Cup alignment can be challenging
The Handupfree Portable Blender packs a punch with its powerful 240W motor and six sharp stainless steel blades. This handy gadget can whip up nutritious smoothies and shakes in just 30 seconds, making it perfect for busy individuals on the go. Its 4000mAh USB rechargeable battery ensures it serves you reliably, whether you're at the office, gym, or out camping.
One noteworthy feature of this blender is its BPA-free, ergonomic design. The flip-top lid makes it easy to enjoy your fresh smoothie without worrying about spills or safety. However, it's important to note the initial charging time of 3-5 hours before the first use, which may be a drawback for some users. Furthermore, the blender requires fruit to be cut into smaller pieces (below 2 inches) to prevent blade clogging.
The smart safety protection and healthy materials used in the Handupfree Portable Blender allow for worry-free use, while its blend/pulse modes cater perfectly to various blending needs. Nevertheless, some users mentioned difficulties with aligning the cup to the bottom, so keep this in mind when considering this product.
In conclusion, the Handupfree Portable Blender offers a compact and powerful solution for those who enjoy fresh smoothies and shakes. With its rechargeable battery, versatile blending modes, and ergonomic design, it's a valuable addition to any kitchen, office, or outdoor adventure.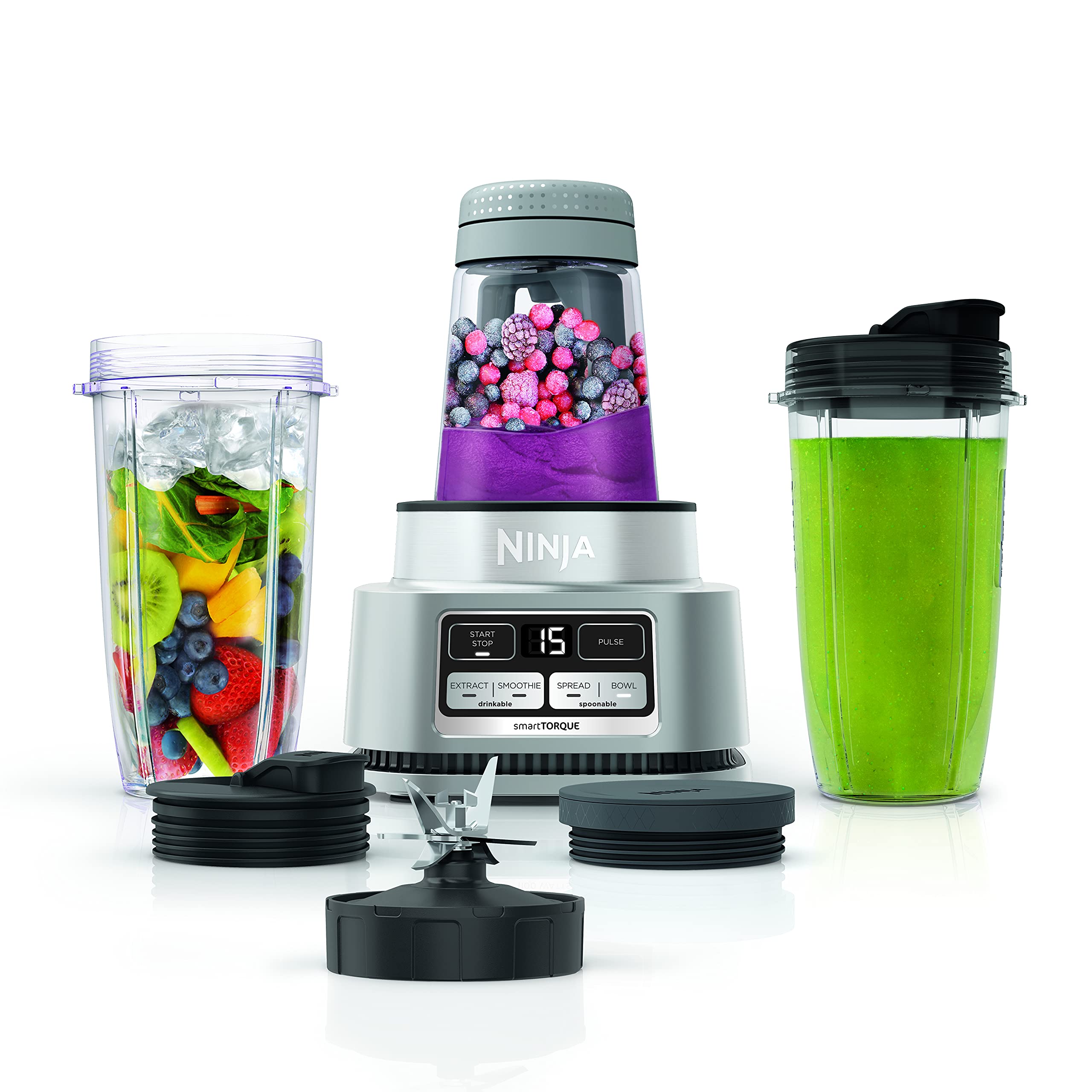 The Ninja SS101 is an excellent choice for those seeking a powerful and versatile blender for smoothies, nutrient extractions, and thick smoothie bowls.
Pros
Powerful 1200-peak-watt motor with smartTORQUE technology
6 versatile functions for various blending needs
2-in-1 blender with Nutrient Extraction Cup and Smoothie Bowl Maker
Cons
Can be noisy during operation
Larger seeds may not be blended as finely
Limited capacity for larger recipes
The Ninja SS101 Foodi Smoothie Maker & Nutrient Extractor is equipped with a strong 1200-peak-watt motor and smartTORQUE technology, ensuring that it can handle even the toughest blending tasks without stalling. Gone are the days of having to pause and shake the blender, as this powerful motor takes on heavy loads like frozen fruits and vegetables with ease.
With 6 versatile functions, the Ninja SS101 is perfect for those looking to create a variety of recipes, ranging from smooth nutrient extractions to thick smoothie bowls. The special Smoothie Bowl Maker with a built-in tamper allows for ideal consistency in blending thick mixtures, like nut butters and blender ice cream. Its user-friendly auto-iQ technology takes the guesswork out of blending by utilizing intelligent programs with timed pulsing and pausing to achieve the perfect blend.
One drawback to the Ninja SS101 is that it can be quite noisy during operation. However, considering its powerful motor, this is a tradeoff that many users may find acceptable. Additionally, it may leave larger seeds in the final blend, which could be undesirable for those who prefer ultra-smooth textures. Finally, the capacity limitation of the included 24-ounce Nutrient Extraction Cup and the 14-ounce Smoothie Bowl Maker may be insufficient for larger recipes.
Overall, the Ninja SS101 Foodi Smoothie Maker & Nutrient Extractor is an excellent investment for those looking to create delicious, healthy, and varied smoothies and blends. The powerful motor, versatile functions, and 2-in-1 blending options make it a versatile and valuable addition to any kitchen.
Buying Guide
When choosing the best blender for smoothies, several factors should be taken into consideration. It's essential to pick a model that suits your individual needs and preferences.
Power and Performance
One crucial aspect when choosing a blender for smoothies is its motor power. Higher wattage typically results in better blending performance. It's recommended to look for blenders with at least 500 watts of power to ensure they can handle ice, frozen fruits, and vegetables with ease.
Blades and Speed Settings
The blade design and material impact the blending results. Stainless steel blades are highly durable, easy to clean, and ideal for handling ice and hard ingredients. Consider selecting a blender with multiple speed settings and pre-programmed functions for smoothies to achieve desired consistency with minimal effort.
Capacity and Material
The jar size is another important factor depending on individual needs. If you intend to make smoothies for a family or meal prep, opt for a larger capacity jar. Additionally, the jar material can vary between plastic, glass, and stainless steel. Each material has its pros and cons:
| Material | Pros | Cons |
| --- | --- | --- |
| Plastic | Lightweight, Durable | Can scratch, retain odor and color easily |
| Glass | Stain-resistant, No odor | Heavier, breakable |
| Stainless | Lightweight, Durable | Hard to see contents while blending |
Ease of Cleaning
Cleaning can be a challenge with blenders, as leftover food particles can get stuck on the blades. A dishwasher-safe blender with removable blades can make cleaning up more manageable. Some models also come with a self-cleaning feature, which simplifies the process even further.
Noise Level
The noise generated by a blender can be disruptive, especially in open-concept kitchens or small apartments. Look for models that advertise a quiet operation or have noise reduction features to minimize disturbance.
Remember, the best blender for smoothies will depend on individual preferences and requirements. By taking these factors into consideration, you can find the perfect blender to create delicious and healthy smoothies with ease.
Frequently Asked Questions
What are the top blenders for handling frozen fruits?
When it comes to handling frozen fruits, powerful motors and durable blades are essential. The Vitamix 5200 and Blendtec Total Classic Original are both excellent choices, as they have high-speed motors and robust stainless-steel blades. The Ninja Professional Blender also performs well in this category, with its 1000-watt motor and six-blade assembly.
Which blenders are best for making protein shakes?
Blenders well-suited for protein shakes often require both power and ease of use. The NutriBullet Pro, with its 900-watt motor and compact design, is a popular choice. The Oster Pro 1200 is another option, offering a 1200-watt motor and pre-programmed settings for smoothies and milkshakes.
How do high-end blenders like Vitamix and Ninja compare for smoothie-making?
Both Vitamix and Ninja produce high-quality blenders that deliver excellent smoothie-making performance. Vitamix blenders, such as the 5200 model, often have higher wattage motors and longer warranties than their Ninja counterparts. However, Ninja blenders like the Professional series typically offer similar blending performance at a more affordable price point, making them attractive options for budget-conscious consumers.
What features should you consider when buying a smoothie blender?
Key features to consider when purchasing a smoothie blender include motor power, blade design, jar capacity, and ease of cleaning. Powerful motors (800 watts and above) and sturdy, stainless steel blades create smoother textures, while larger jars allow for bigger batches and more flexibility with ingredient quantities. Additionally, a blender with dishwasher-safe parts or a self-cleaning option can save time and effort.
Are there any affordable blenders that perform well for smoothies?
Yes, several affordable blenders deliver impressive results for smoothies. For example, the Black+Decker PowerCrush Digital is budget-friendly and features a 700-watt motor, while the Breville Blend Active is a personal blender that offers a powerful 300-watt motor and convenient to-go bottle design.
How does a dedicated smoothie maker differ from a regular blender?
Dedicated smoothie makers often prioritize certain design features to cater specifically to smoothie enthusiasts. Personal smoothie makers, like the NutriBullet or the Breville Blend Active, usually have a smaller blending jar capacity and single-serve to-go bottles. These models tend to prioritize portability and convenience. In contrast, a standard blender may have a larger jar, broader range of settings, and a more powerful motor, making it better suited for various blending tasks beyond smoothies.