Strollers are essential for parents on the go, providing a convenient way to transport their little one while running errands or taking a leisurely walk. One stroller type that stands out in terms of portability and ease of use is the umbrella stroller. Characterized by a lightweight frame, compact folding design, and simple maneuverability, umbrella strollers have become increasingly popular among parents.
For tall parents, finding a stroller that comfortably accommodates their height can be a challenging task. Some umbrella strollers may require awkward bending and hunching, leading to back pain and discomfort. Therefore, it is crucial to find an umbrella stroller that is designed with adjustable features or is tailored explicitly for taller individuals.
When searching for the perfect umbrella stroller for tall parents, key aspects to consider include handle height, legroom, and ease of steering. These factors will ensure that the umbrella stroller offers both functionality and comfort for parents of any height.
To assist you in finding the ideal umbrella stroller, we have invested extensive time and effort into researching and testing numerous models, focusing on products designed with the needs of tall parents in mind. In the following sections, we narrow down the top umbrella strollers based on their features, quality, and parent feedback.
Best Umbrella Strollers for Tall Parents
Discover our carefully curated selection of the finest umbrella strollers specifically tailored for tall parents. Enjoy a comfortable stroll with your little one without compromising on your posture.
The Summer Infant 3Dmini Convenience Stroller offers a perfect combination of mobility, convenience, and comfort for tall parents and their little ones.
Pros
Lightweight and compact design
Multiple-position recline for baby's comfort
Extra storage options for parents
Cons
Plastic wheels may wear out over time
Limited seating capacity (45 pounds max)
Height recommendation of up to 43 inches
The Summer Infant 3Dmini Convenience Stroller stands out for its lightweight yet durable design, making it a fantastic choice for tall parents who are constantly on the go. With a steel frame weighing only 11 pounds, it's easy to maneuver and fold. The storage options, such as a storage basket, rear storage pocket, and two cup holders, provide plenty of space for essentials, making it convenient for busy parents.
One of the best features of this stroller is its multiple-position recline, which ensures optimal comfort for the baby throughout the day. The padded seat back and 5-point safety harness provide additional safety, while the canopy with a flip-out sun visor protects the baby from the sun.
However, users should be aware of the limitations of this stroller. The plastic wheels might wear out over time, and the seating accommodation is restricted to 45 pounds. Additionally, the maximum height recommendation of 43 inches could be an issue for taller children.
In conclusion, the Summer Infant 3Dmini Convenience Stroller is an excellent choice for tall parents who need a lightweight and practical option for their little ones. With added storage and convenient features, this stroller is perfect for everyday use and traveling while providing great comfort and safety for the baby.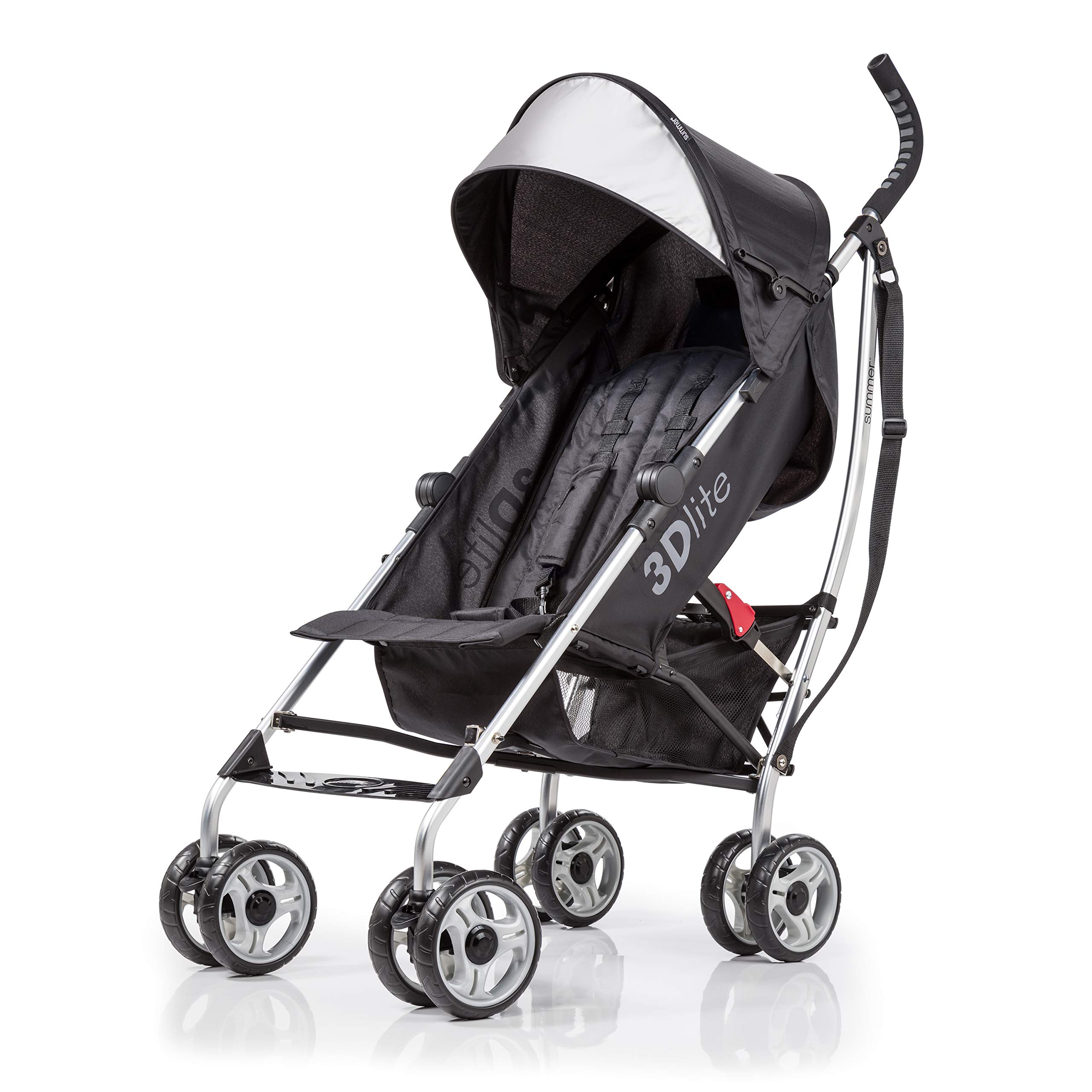 The Summer Infant 3Dlite stroller is a great option for tall parents seeking a lightweight, feature-packed stroller suitable for daily use and travel.
Pros
Lightweight with an aluminum frame
Large seat area, 4-position recline, 5-point safety harness
Compact fold, with carry strap and auto lock
Cons
Canopy design could be improved
Storage basket's weight limit is only 10 pounds
Sun visor may not provide adequate coverage for all children
The Summer Infant 3Dlite Convenience Stroller is designed for comfort and convenience. Its lightweight aluminum frame makes it easy to maneuver and transport, while the large seat area and adjustable recline ensure that the child remains comfortable. The stroller is also equipped with safety features like a 5-point safety harness, anti-shock front wheels, and lockable rear wheels.
However, despite its many features, the stroller does have some drawbacks. The canopy design is not perfect, as it may not provide enough sun protection for some children. In addition, the storage basket has a maximum weight limit of only 10 pounds, so parents need to be mindful when packing their belongings.
Overall, the Summer Infant 3Dlite stroller offers a balance between functionality and affordability, making it a worthwhile investment for tall parents in need of a lightweight and feature-rich stroller. Its compact fold, carry strap, and auto lock make it a great travel companion, while the adjustable canopy and recline options provide comfort for the child during daily strolls.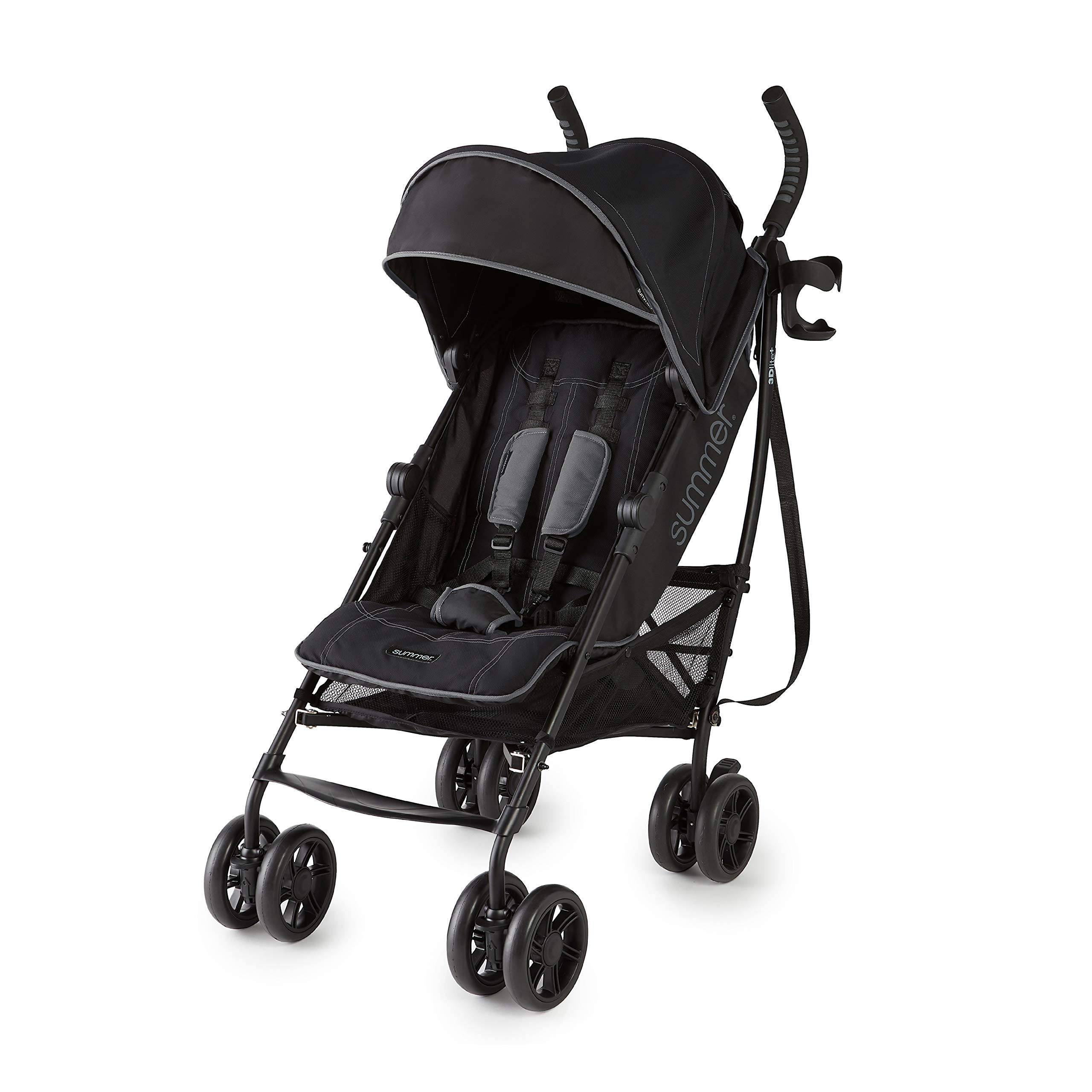 The Summer Infant 3Dlite+ is an excellent choice for tall parents in search of a lightweight and comfortable umbrella stroller.
Pros
Lightweight and easy to maneuver
Comfortable seat with multi-position recline
Extra-large canopy and storage
Cons
May be tricky to open and close
Straps are not adjustable
Less suitable for rough surfaces
The Summer Infant 3Dlite+ Convenience Stroller is designed for the convenience of tall parents who need a lightweight stroller for everyday use or travel. Built with an aluminum frame, it weighs only 14 pounds, making it easy to carry and maneuver. The stroller features a simple one-hand, multi-position adjustable recline system that ensures the child is comfortable during walks or while running errands.
One of the standout features of the 3Dlite+ is the oversized canopy with a flip-out sun visor and a peek-a-boo window, which provides ample shade and coverage for the child. The stroller also offers extra-large storage space, including a parent cup holder, cell phone holder, zip-close storage pocket, and a child sippy cup holder. This makes it an ideal option for busy parents on the go.
However, some users may find the stroller a bit challenging to open and close due to its compact fold mechanism, which features an auto-lock and carry strap. Moreover, the straps in the stroller are sewn in, meaning they cannot be lowered or removed. This may cause some discomfort to children who have not yet grown into the harness.
Another point to consider is that the 3Dlite+ may not fare as well on rough or uneven surfaces compared to some other strollers. It is best suited for smooth sidewalks, malls, or parks. Overall, the Summer Infant 3Dlite+ Convenience Stroller is a practical and stylish solution for tall parents who seek a lightweight and comfortable stroller for daily use.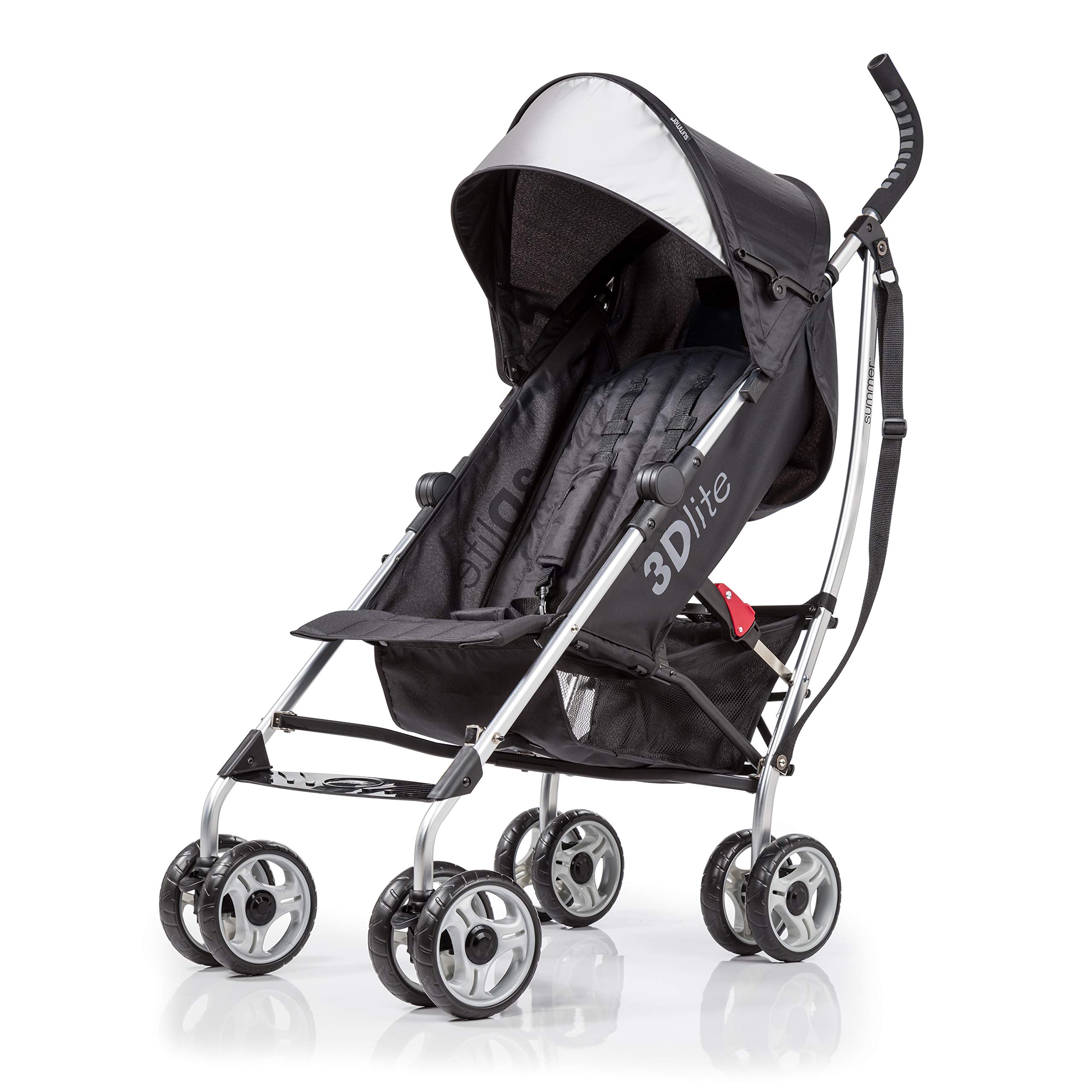 The Summer Infant 3Dlite Convenience Stroller is a top choice for tall parents seeking a lightweight, feature-rich, and easy-to-use umbrella stroller.
Pros
Lightweight and durable aluminum frame
Compact fold with carry strap and auto-lock for easy storage and transport
4-position recline and 5-point safety harness for child's comfort and safety
Cons
Canopy may not provide optimal sun protection
Storage basket could be larger
Wheel design might make it difficult to maneuver on rough terrain
The Summer Infant 3Dlite Convenience Stroller offers exceptional value for tall parents who prioritize portability without sacrificing essential features. The lightweight aluminum frame and compact fold make it ideal for everyday errands and travel. Weighing just 13 pounds, this stroller is easy to carry and store, while the 4-position recline and 5-point safety harness ensure your child stays comfortable and secure.
One potential downside is the canopy, which may not fully shield your child from the sun due to its limited coverage. However, the adjustable and removable canopy does include a flip-out sun visor for added protection on sunny days.
The storage options on the 3Dlite Convenience Stroller are decent, but not without their limitations. The extra-large storage basket, rear storage pocket, and cup holder provide ample space for essential items, but some parents may find the storage basket could be larger, especially for longer outings that require more gear.
Although the anti-shock front wheels and lockable rear wheels offer a smooth ride on most surfaces, some parents might find the wheel design challenging on rough or uneven terrain. Nevertheless, the Summer Infant 3Dlite Convenience Stroller remains a popular choice among tall parents for its portability, ease of use, and thoughtful features.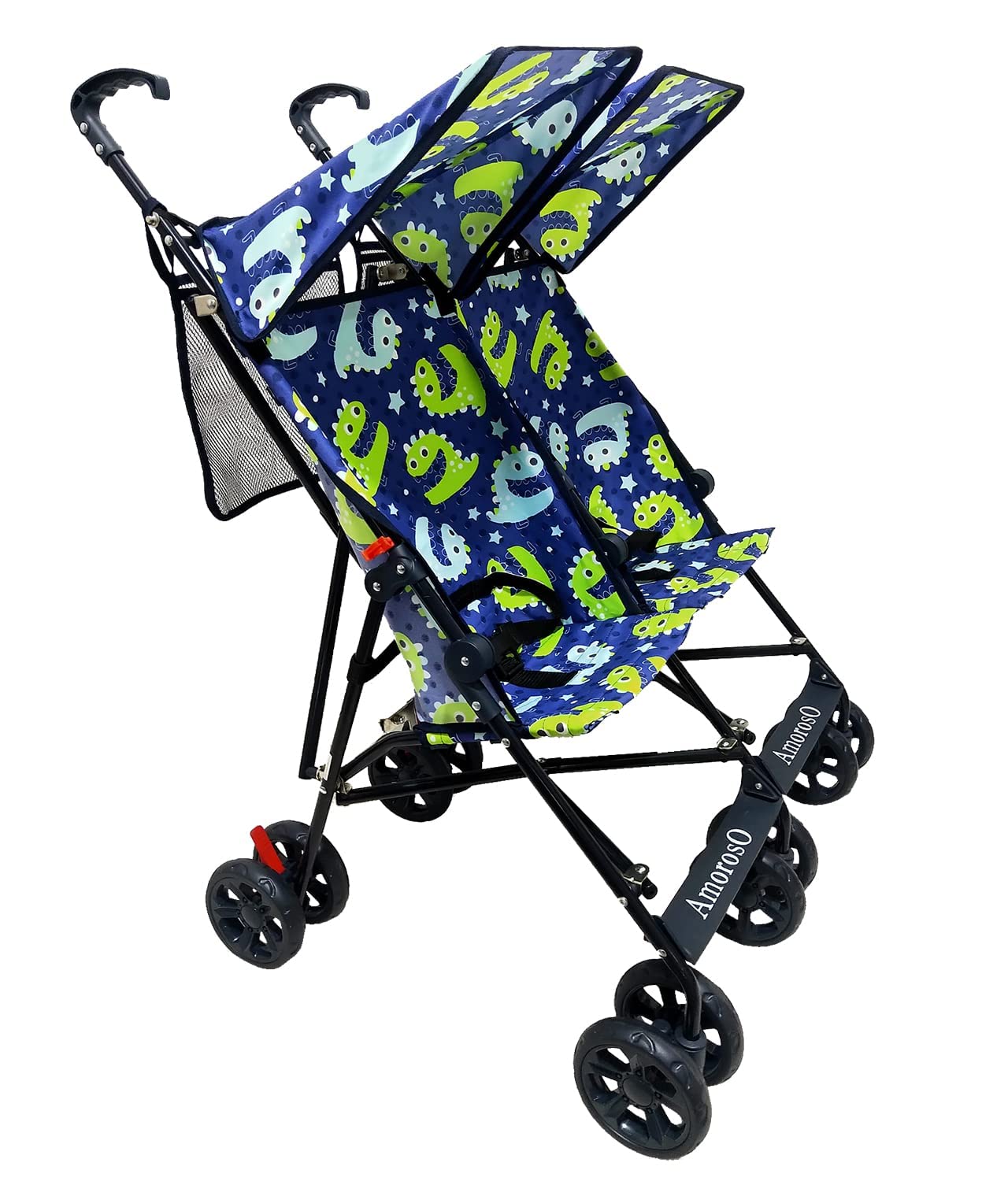 This double umbrella stroller is a practical choice for taller parents who are searching for a lightweight and easy-to-clean solution for their toddlers.
Pros
Lightweight and easy to clean
Suitable for toddlers up to 33 lbs
Compact and easy to maneuver
Cons
Plastic handles may feel flimsy
Not great for use on gravel surfaces
Height may be uncomfortable for taller individuals
The AmorosO Twin Lightweight Double Umbrella Stroller stands out for its cute and friendly appearance, making it an eye-catching option among other strollers. Made with plastic and nylon fabric materials, this stroller is not only lightweight but also easy to clean – perfect for those messy situations that can arise when you're out with your young ones.
This double stroller is ideal for toddlers who are at least 9 months old and weigh less than 33 lbs. The spacious and comfortable seating area makes it perfect for strolling in the park or taking part in any outdoor activity with your little ones. They'll enjoy taking in the sights around them while tucked safely inside this eye-catching stroller.
When it's time to pack up and head home, the AmorosO Twin Lightweight Double Umbrella Stroller conveniently folds down to a compact size, making it straightforward to transport and store. However, some users have noted that the plastic handles can feel a bit flimsy, and the stroller may not perform well on gravel surfaces. Also, taller parents might find it difficult to push this stroller comfortably due to its height.
In conclusion, the AmorosO Twin Lightweight Double Umbrella Stroller offers a great combination of style, convenience, and function for tall parents. While it might not be perfect in every situation, its ease of use, cleaning, and storage capabilities make it a solid choice for those looking for a double-stroller solution.
Buying Guide
When looking for an umbrella stroller for tall parents, there are several key features to consider in order to find the most suitable option. This buying guide will provide important factors to help make an informed decision.
Handlebar Height
One of the most important factors to consider is the handlebar height. Tall parents should look for strollers with adjustable handlebars or handlebars that are already at a higher position. This will allow for comfortable pushing without having to hunch over or strain your back.
Weight Capacity
The weight capacity of the stroller is another essential aspect to keep in mind. Consider both the weight of the child and any additional items you may need to carry, such as a diaper bag or groceries. Opt for a stroller with a higher weight capacity to accommodate the child as they grow and ensure durability over time.
Wheel Design and Suspension
A stroller with sturdy, well-designed wheels and suspension can provide a smoother ride for both the child and the parent. Larger, swivel wheels offer better maneuverability, especially on uneven surfaces or in crowded areas. Opt for a stroller with a good suspension system to absorb shocks and minimize discomfort during long walks.
Foldability and Portability
Umbrella strollers are known for their compact and lightweight design, making them ideal for parents who are always on the go. Ensure that the stroller you choose can be easily folded, preferably with a one-hand folding mechanism, and is lightweight enough to carry and transport with ease.
Safety Features
Safety should never be compromised when it comes to purchasing a stroller. Look for features such as a 5-point harness system, rear-wheel brakes, and a canopy with UV protection to provide adequate safety and comfort for your child.
By considering these factors, tall parents can confidently choose an umbrella stroller that meets their needs and provides a comfortable and enjoyable experience for both parent and child.
Frequently Asked Questions
What are the top umbrella strollers with higher handlebars?
Some of the top umbrella strollers with higher handlebars include the UPPAbaby G-Luxe, Maclaren Twin Triumph, and Joovy Groove Ultralight. These strollers cater to taller parents by offering adjustable handlebars that provide a more comfortable pushing experience.
Which strollers provide the most comfortable experience for taller parents?
Apart from those with higher handlebars, strollers featuring adjustable handles or handle extenders can improve comfort for taller parents. For instance, the Baby Jogger City Mini GT2 and the Bugaboo Cameleon3 offer adjustable handlebars. Comfort is subjective, so it's essential to test different strollers before making a choice.
Are there affordable stroller options suitable for tall parents?
Yes, there are affordable stroller options for tall parents. Some budget-friendly options with taller handlebars include the Summer Infant 3D Lite, Kolcraft Cloud Plus Lightweight Stroller, and the Chicco Liteway Stroller. While these may not have all the features of higher-end models, they provide a comfortable push for tall parents without breaking the bank.
How do umbrella stroller handle extenders work?
Umbrella stroller handle extenders are accessories designed to increase the height of stroller handles. They usually attach to the existing handlebars and extend their length, making pushing the stroller more comfortable for taller parents. Some popular handle extender brands are Valco and Easy Stroll.
What factors should tall parents consider when choosing a travel-friendly stroller?
Tall parents should consider factors such as handle height, handle adjustability, and the availability of handle extenders when choosing a travel-friendly stroller. Lightweight strollers, like the ZOE XL1 Deluxe, are ideal for travel due to their easy folding mechanism and compact size.
At what age can a child start using an umbrella stroller?
Umbrella strollers are typically suitable for children aged six months or older, as they need to be able to sit up unassisted. However, some umbrella strollers, like the Chicco Bravo LE Trio, can accommodate newborns with the use of a car seat adapter. It's crucial to check the stroller's weight and age limits before use to ensure your child's safety.